Hi Folks, I am Riya and sharing my review of Hindware Moonbow Oceanus 3000 RO Water Purifier.
The importance of using a reliable water purifier in our lives got magnified when I and my family kept falling ill due to consumption of unclean water.
It was never our priority to thoroughly study and check how a water purifier worked until my little daughter fell terribly ill. Her paediatrician explained to us that something as innocuous as a water purifier can make or break the health of a family. My daughter's illness was the wakeup call I needed to start reevaluating how we drank something as simple as water.
It is a known fact we are susceptible to water-borne diseases if we don't take care and thus, it is absolutely imperative that we choose only the best alternatives for pure and clean drinking water which is germ and bacteria free.
There are a number of water purifiers available in the market but how do we know which RO water purifier is the best one for you? It actually becomes a daunting task to select one that is perfect for you and your health! I had to search through a lot of different water purifiers in the market before I decided what met my requirements best. I came across Hindware Moonbow's Oceanus 3000 RO Water Purifier and it not only fit my requirements for pure and clean drinking water but my pocket as well.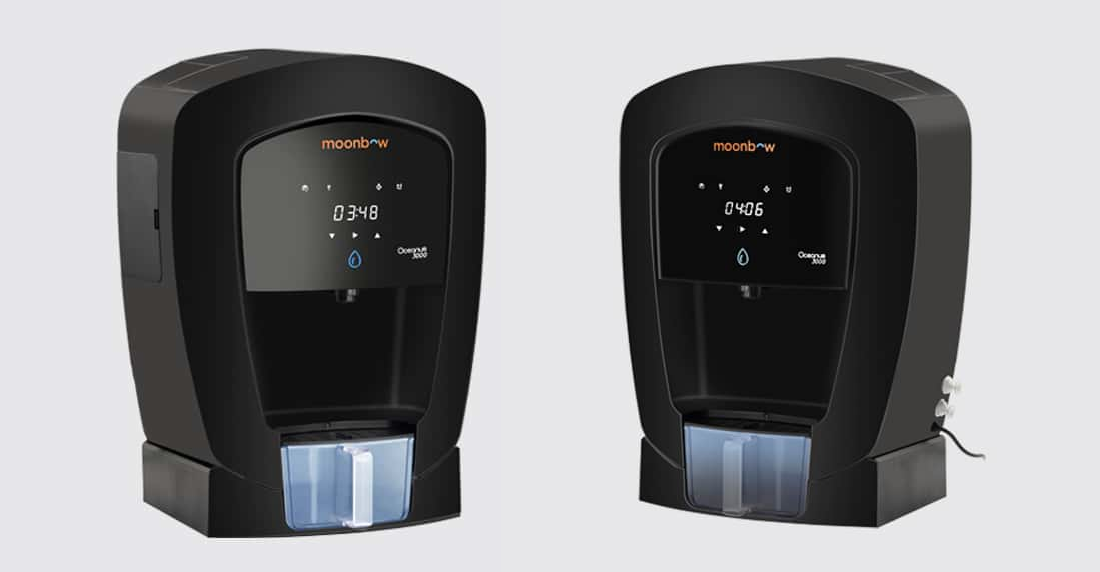 My experience with the Moonbow Oceanus 3000 Water Purifier
After coming across Oceanus 3000 Water Purifier, I decided to purchase it for our home and have been using it very happily for the past 4 months. It is a perfect blend of technology and aesthetics and has lived up to my expectations with its multi features.
I and my entire family are using Oceanus 3000 Water Purifier and consuming water without any anxiety since the quality of the water as well as the taste of the water is 100% pure. We are relieved as we know that our health is in good hands since the water we drink has been purified by the most advanced and premium purifier in the market.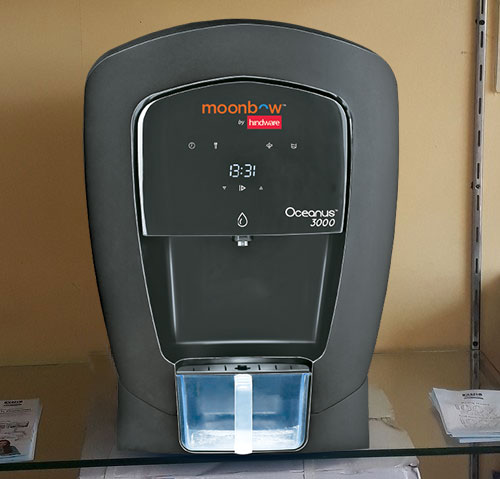 Technology Used
Moonbow's Oceanus 3000 RO Water Purifier is loaded with only the best features available in a water purifier. It works on a smart and user-friendly interface which is also touch sensitive. It has an advanced 7 stage RO+UV+UF purification system which purifies water 100% along with Mineral Fortification technology which ensures that there are adequate essential minerals in the water.  This is one of the easiest ways of taking care of your health along with drinking pure water!
Another added feature which makes our life a little more hassle-free is the Anti-Scalant filter which protects against scale formation such as magnesium and calcium inside the RO membrane and helps elongate its life. The In-Line Sediment Filter helps remove impurities such as mud, dirt, and dust along with solids from the water. It is also suitable for water with TDS of up to 3000ppm thanks to its powerful RO.
The capacity of Oceanus 3000 RO Water Purifier is sufficient with its 7-liter capacity but it is sturdy enough to purify 12 liters per hour.
One of its most attractive feature and also my favourite is the in-built Veggie Pure tray, where I can wash my vegetables, fruits, and other eatables directly with RO purified water. It has a capacity of 2.5 liters which make it convenient to wash a large quantity at a time. This feature affords me the peace of mind that I am eating vegetables and fruits which are a 100% toxic free.
Product Packaging
Moonbow Oceanus 3000 RO Water Purifier comes in a compact and attractive box which is packed with 1 Water Purifier and Veggie Pure tray, wall mounting accessories, 1 Installation Kit, 1 RO Care Kit and 1 Instruction Manual with the Warranty Card.
Moonbow Oceanus 3000 Water Purifier Price in India
While there are many RO water purifiers available in the market, I was looking for one that ensured me pure and cleaning drinking water without putting a dent in my pocket. Moonbow Oceanus 3000 RO Water Purifier is indeed budget friendly with a price tag of Rs. 24,990.
There might be other water purifiers in similar or even lower range but they certainly do not pack as many features as Oceanus 3000!
I placed an order for this water purifier and surprisingly received it in 6 days itself! The installation was process was as easy as ordering the water purifier. A representative came over to fix it in our kitchen. With just a few tweaks on our wall, the water purifier was fixed exactly where we needed it without occupying too much space.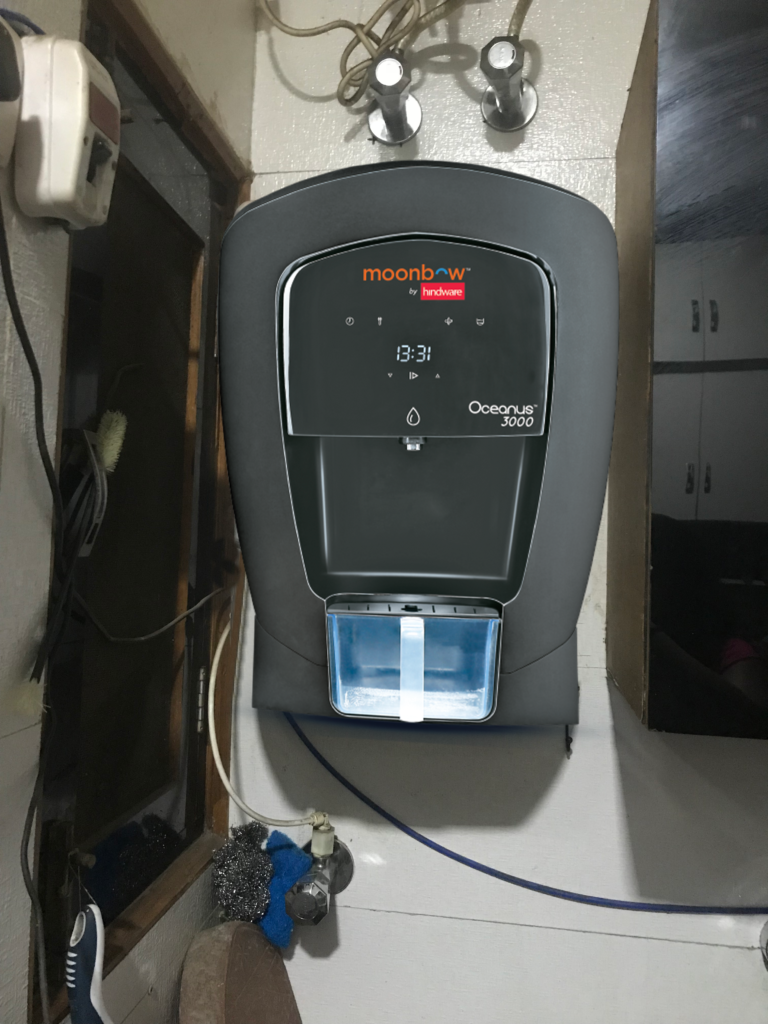 Why I vouch for Moonbow?
One of the best decisions taken by me was to purchase Moonbow Oceanus 3000 RO Water Purifier as it fit our budget as well as safeguard the health of my family. It not only purifies the water we drink but also aids in removing toxins from fruits and vegetables.
The interface of the water purifier is very easy to use and friendly with features that are simple and yet so useful such as the clock, failure alert, filter replacement, tank full indicator, main faucet on/off etc. When the representative came over to install the water purifier, he gave us the choice of either mounting it on the wall or placing it on our table top. This flexibility is perfect to meet the needs of any kind of kitchens, be it large or small. As of now, I have not faced any issues with the Moonbow Oceanus 3000 RO Water Purifier and I highly doubt that I will face any issues as the features in it makes me more than happy.
As I have quite a bit of experience of discovering the perfect water purifier for my family, I think I can take the liberty to recommend the best choices available in the market. I highly recommend the Moonbow Oceanus 3000 RO Water Purifier as it meets all my needs of ensuring pure and toxin free water along with added features such as the Veggie Pure Tray which is such a useful add-on!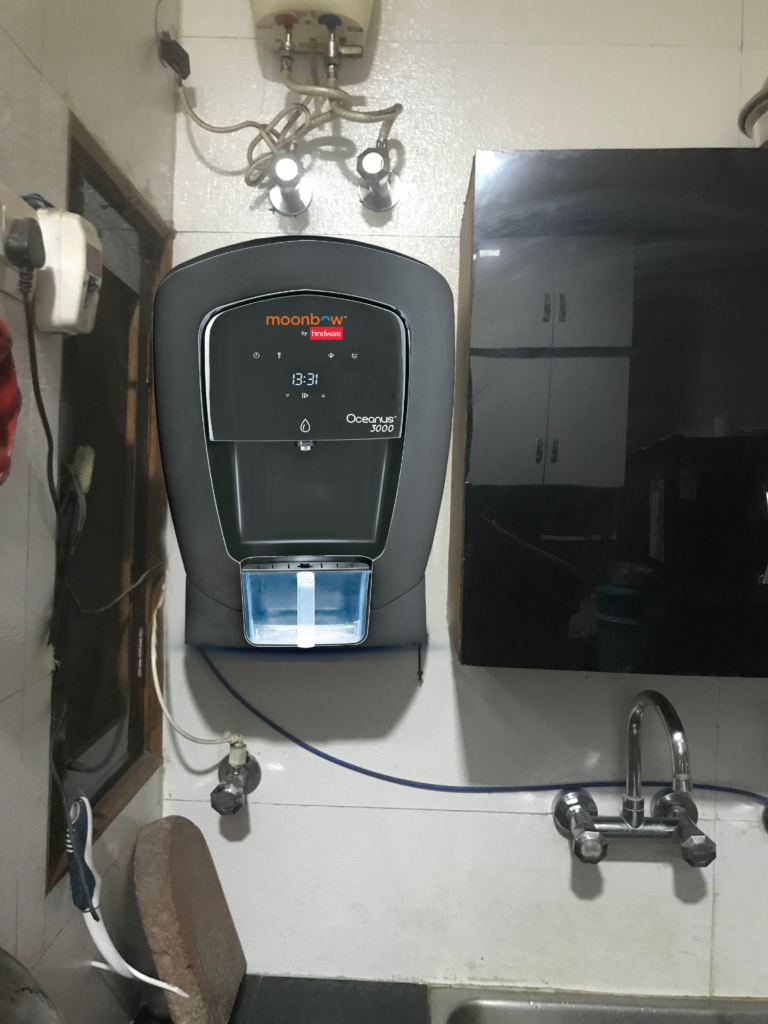 Pros of the product:
It provides 100% pure and toxin-free water.
It has ample storage capacity and a high purification rate.
The water tastes much better than before.
It is priced reasonably and hence, it fits the budget.
Convenient and quick installation service.
Handy add-on feature of veggie-tray.
It comes with a sturdy packaging.
Cons of the product:
I'm yet to find any major cons till now.
My final verdict
I would rate the Moonbow Oceanus 3000 RO Water Purifier a 9/10 simply because it has left me extremely satisfied and happy. It is absolutely worth the money spent as I can be tension free when it comes to using and drinking 100% clean and pure water!
I hope you like reading the Hindware Moonbow Oceanus 3000 Water Purifier review.  Please do share your views in comments below. I will try my best to reply you all.
Stay healthy!