I am using Patanjali Drishti Eye Drops and today I am going to review this product and share my experience with you.
(You will know what exact problem I had and how the use of this product of Baba Ramdev helped me to cure it.)
But wait, there's more 🙂
I'll ALSO tell you which yoga and other exercises I do for healthy eyes.

Why I get the need of Patanjali Drishti Eye Drop?
Ah…!!!! Maa, It pains a lot …………..!!!!!! 😥
This is how I always complaint to my mother.
(My eyes get red, burns and pains a lot)
My mother used to tell me that this is due to constant strain to my eyes because of long hour studying and working on the computer.
Also, she believes my smartphone is a main culprit. 🙂
She put rose water (Gulaab Jal) at night in my eyes to provide cooling effects to my eyes such that pain and burning of my eyes get cured.
But, this was a temporary solution for my ongoing problem.
I got my eyes checked, my specs no. was constant, and the eye specialist told that the pain and burning in my eyes is due to eyes muscles weakness. He prescribed certain eye drops to put on daily twice and advised me to splash my eyes with cold water often.
I had followed the same for about 3-4 months, this helped a little, but there is no permanent relief in my problem.
Then, one fine day one of my aunt living in our neighborhood suggested my mother to use Baba Ramdev's Patanjali Drishti Eye Drops.
My mother bought that for me.
Initially, I was reluctant to use it, because I was fed-up of using different eye drops and none of them solve the purpose. But, my mother convinced me somehow to use it. (Mother is Mother after all.)
At first, on putting those eye drops in my eyes, my eyes burns a lot (more precisely stinging sensation). I have been using Baba Ramdev's Patanjali Drishti Eye Drop from last 5 months. It has done wonders in solving my problem.
Therefore, I decided to Review Patanjali Drishti Eye Drop.
This is how it looks externally.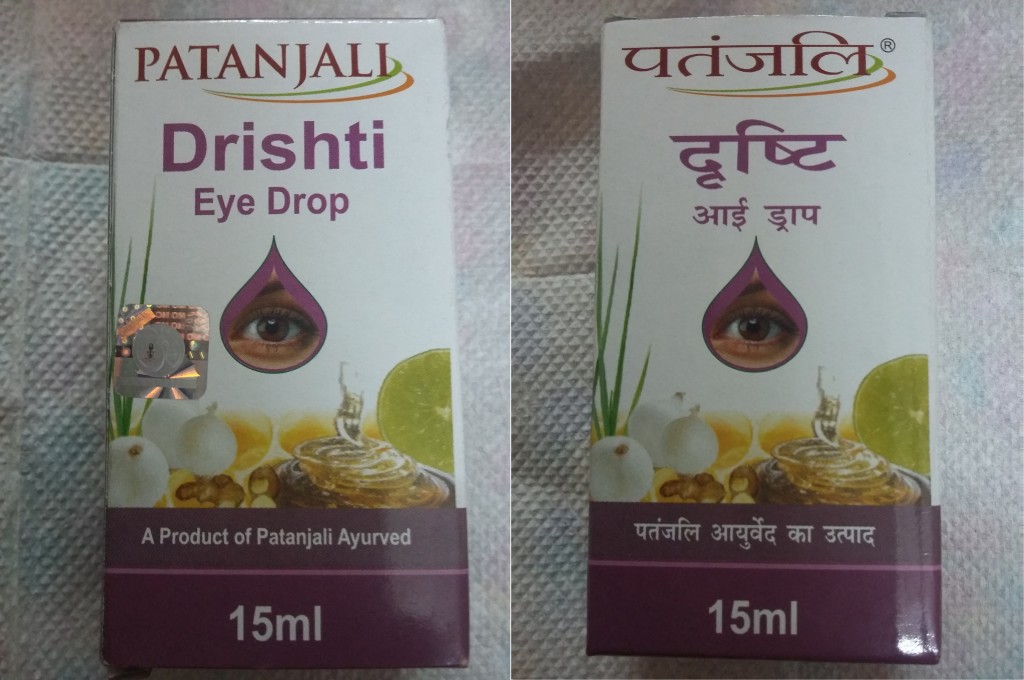 It comes in 15ml packaging, with its name at the top along with the Brand and a caption below it (A Product of Patanjali Ayurveda) denoting it as an Ayurvedic product.
Inside the carton, the Drishti Eye Drop comes in plastic sealed packaging revealing its freshness and purity in content.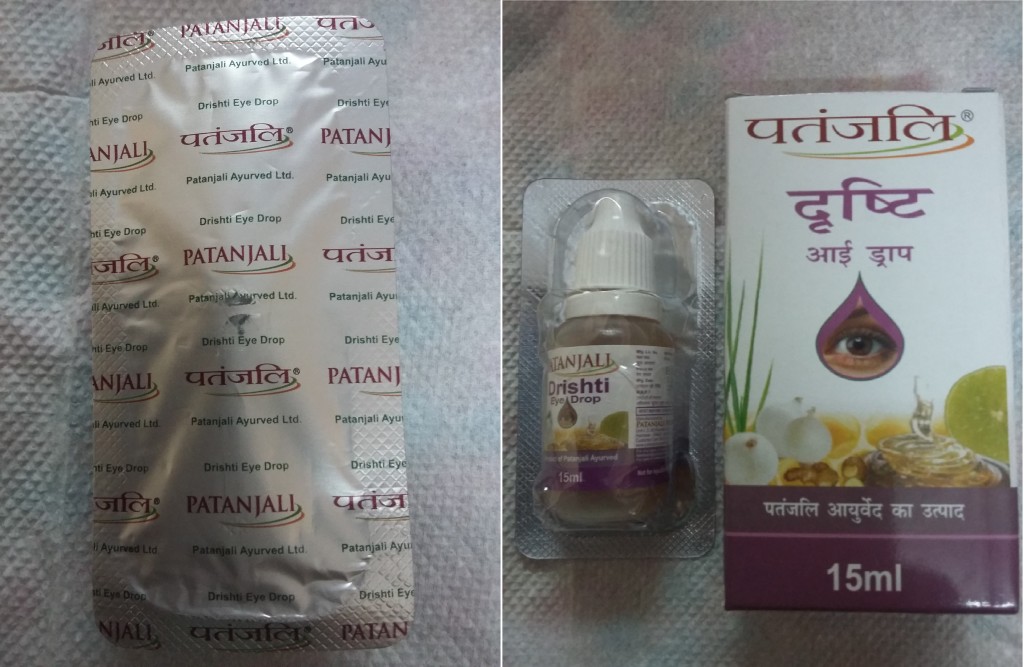 Plastic small (15 ml) bottle with White opaque cap, to close it after every application, to avoid spillage of the Eye Drops. White cap also have small plastic nib like attachment to make a hole in the dropper.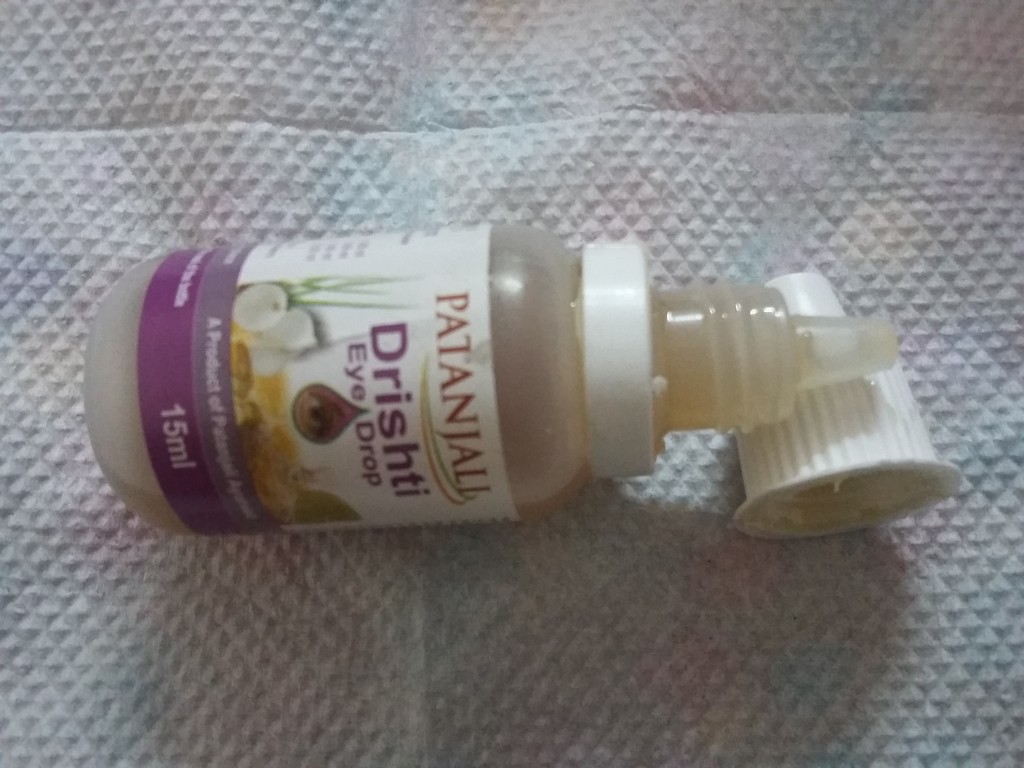 Reason Behind Why Patanjali Drishti Eye Drop stings?
As Patanjali or Divya Drishti Eye Drop is (a product of Patanjali Ayurveda) an Ayurvedic Proprietary Medicine. It is prepared from natural herbal botanical extracts.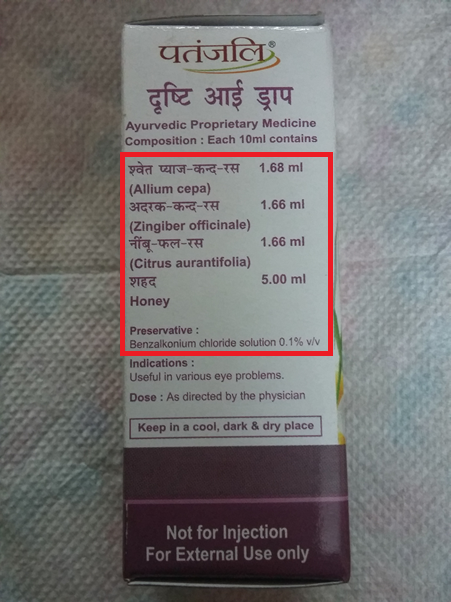 Composition:

Each 10ml contains:
Juice of Allium cepa – Onion juice (1.68ml)
Juice of Zingiber officinale – Ginger Juice (1.66 ml)
Juice of Citrus aurantifolia – Lemon Juice (1.66 ml)
Honey – 5.00 ml Preservative: Benzalkonium chloride solution 0.1% v/v
All contents are natural herbal extracts with no impurities. The stinging sensation is due to Honey in 5.00 ml proportions in it. It looks yellowish in color with a brown tinge, smells like more of old lemon.
As it is an Ayurvedic preparation, it is best before 12 months from Mfg. Date, if the seal of the bottle is not open. But, have to use it within one month after opening the seal of the bottle.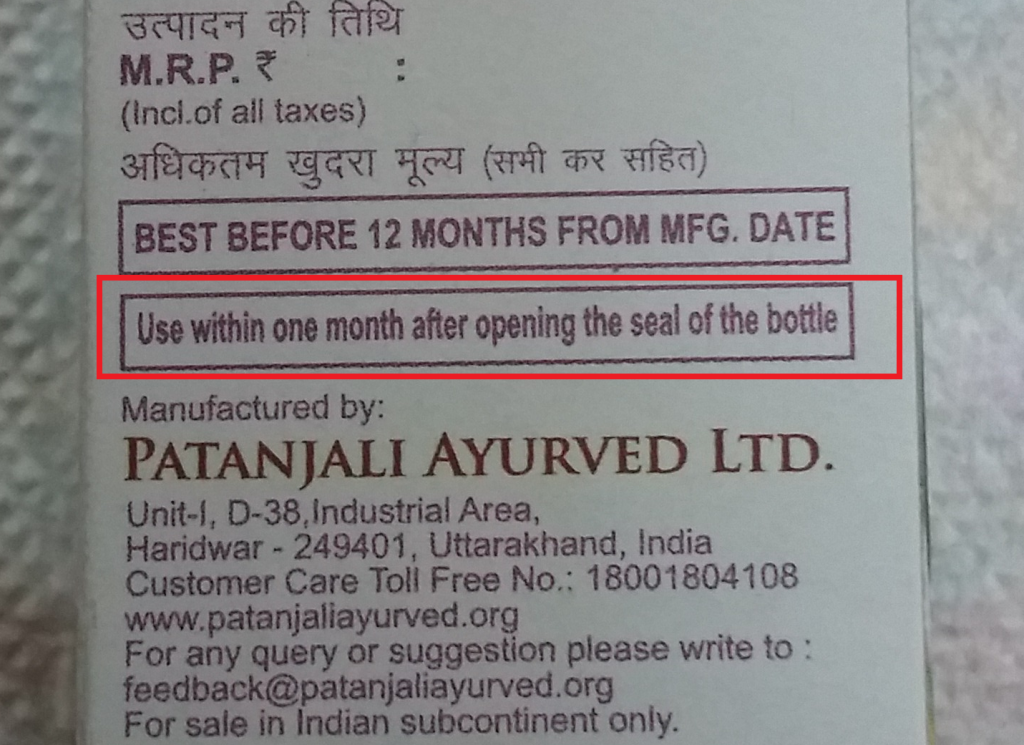 Over the Carton, it is written as "Useful in various Eye problems".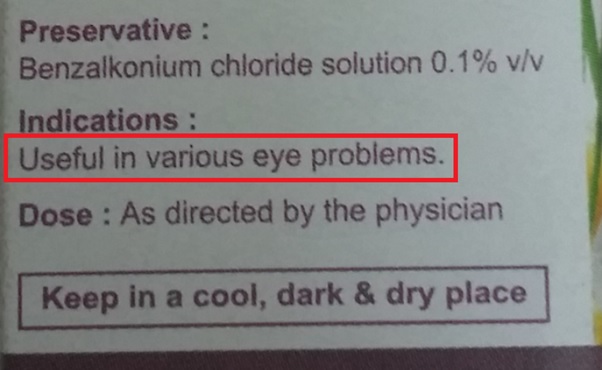 Doesn't claim a medicine for Cataracts, Myopia and other major eye disease.
Drishti Eye Drop Price in India: INR 25 for 15 ml Bottle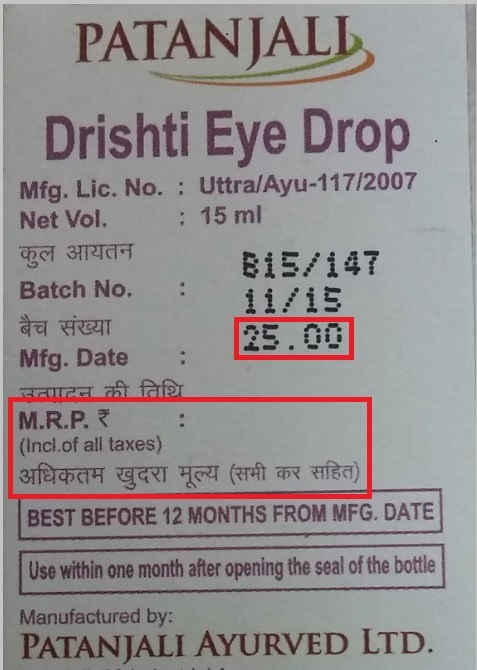 My Experience: How I get Benefited with Patanjali Drishti Eye Drop
I put 1 – 1 drop of Drishti on both the eyes twice daily in the morning and before going to bed.
On putting the Drishti eye drops in the eyes, initially for first one or two applications, burning or stinging sensation was felt (Just Unbearable). It is advised to add rosewater to dilute it. But I use it as it is. On its regular use, I became used to it.
After putting the Eye Drops in the eyes, all the impurities from the eyes came out in form of watery discharges from the eyes.
Pain and burning in the eyes gone.
Also the eyes are less red now.
Regular use of the product helped me to overcome my eye troubles. It has worked wonderfully for me. But no improvement in the vision and power remain constant.
Patanjali Drishti Eye Drop is successful in general eye problems like mine or can be use otherwise also to maintain healthy eye sight.
Limitations of Patanjali Drishti Eye Drop
Not advisable to persons having serious eye disorders.
People with recently gone for LASIK Surgery or any surgical intervention of eyes they need to consult their Ophthalmologist before using the product.
It stings and burns a lot. Therefore, not recommended for small kids and people with sensitive eyes.
As I have already told that Drishti eye drops helped me in curing my general eye troubles, I DO NOT confirm whether this eye drop actually helps or not in curing eye or vision disorders like Cataract, Myopia (Near-sightedness), Hyperopia (Farsightedness), Ptosis (Drooping Eyelids), Glaucoma, Eye Floaters as many claimed on the internet.
If you are undergoing any of these problems better consult the doctor before directly implementing it to your eyes.
Yoga and other Exercises I am doing for Eye Cure
There are many yoga asanas for eye treatment and improving eyesight. But I do the Bhramari Pranayama (5 minutes) along with Anulom Vilom (10 minutes), eye rotation and palm point pressing exercise everyday as recommended by yoga guru Baba Ramdev.
Bhramari Pranayama is easy to do in any place, any time.
Below are the steps to do Bhramari Pranayama
Sit straight in any asana (I prefer padmasana) you feel comfortable in and close your eyes.
Close ear lids with your thumbs.
Put index fingers on the forehead above eyebrows.
Put middle fingers over your eyes with gentle pressure.
Put ring and little fingers to the sides of the nose.
Slowly take the deep breath keeping mouth close.
Now release the breath slowly making humming sound like a bee or Om ucharan.
Repeat 5-10 times, you can increase the process as per your convenience.
Bhramari Pranayama helped me to reduce eyes strain and allow them to relax.
Below are the pics of Palm pressure points for eyes.
I press these points for 5 minutes daily while travelling to my office.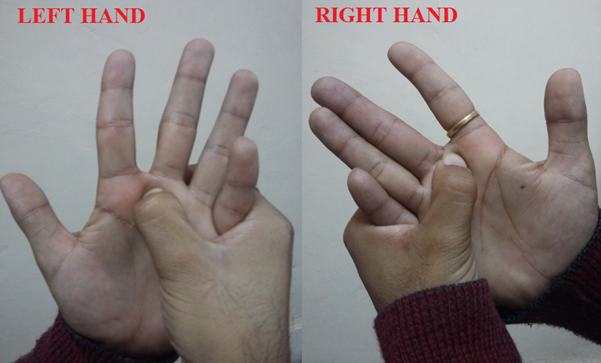 Give Patanjali Drishti Eye Drop a try!!
This Ayurvedic Eye Drop contain herbal components, having antibiotic properties of their own benefits to keep bacteria, infections, or inflammation free eyes.
My personal experience after using Patanjali Drishti Eye Drop is wonderful, with fantastic results in curing pain and burning in my eyes.
I would suggest everyone to use it for keeping eyes healthy. Do share your feedback / experience of Patanjali Drishti Eye Drops in comments below.
Free Download – Patanjali Products List , Sri Sri Ayurveda Products List