Hey beautiful Gals,
I'm back with yet another review from most liked beauty product range.
Few months back I was trolling through different TV channels, as I was feeling bored.
I came across with a TV commercial on Channel V. It was a commercial of White Tone Face Powder with Soft Shade Formula.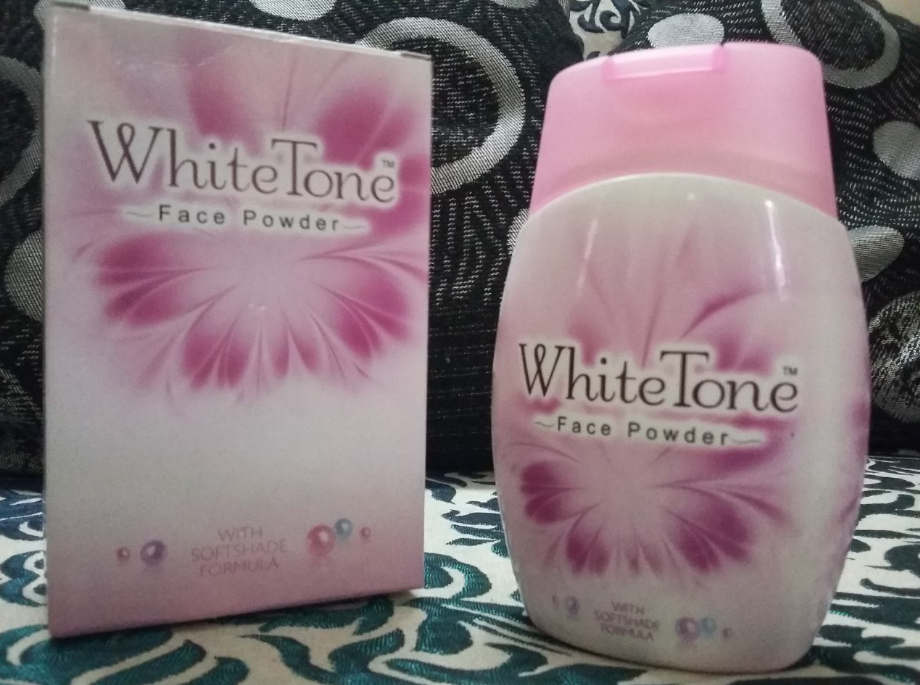 While listening to my favorite song on Channel V. This TV Commercial came many times in between.
It caught my eye and I decided to give it a try once. 🙂 
It claims an instant fairness on its application.
(Below I have embedded the YouTube Video)
"White Tone ka finishing touch mujhe de even tone, oil free look, or gora nikhaar or attractive look or pyaara pyaara chehra"
As I have an oily skin texture especially over my T-Zone. None of the face powder stays on my face. So, think to try it once and bought the product.
I have used it for few months and now I'm ready to review White Tone Face Powder and share my views on the same.
ABOUT White Tone Face Powder with Soft Shade Formula
WHITE TONE Face Powder WITH SOFT SHADE FORMULA is manufactured in India
By
VINI COSMECTICS PVT. LTD.
Located in
67, Panchratna Ind.Estate, Sarkhej- Bavla Highway, Changodar. 382 213, Dist. Ahmedabad.
WHITE TONE Face Powder WITH SOFT SHADE FORMULA comes in cute baby pinkish coloured plastic jar with a flip top cap.
The manufacturer company of the product used Light Baby Pink colour for packaging too as Pink is a feminine colour and is very appealing for women of all age groups.
The Plastic jar of the powder is further packaged into light baby pinkish coloured paper carton.
The powder comes with Soft Shade Formula that blends with the skin and make you look fairer in few minutes as the TV Commercial claims.
INGREDIENTS white tone face powder contain
Talc, Aluminium Starch Octenylsuccinate, Calcium Carbonate, Magnesium Stearate, Titanium Dioxide, Mica, Alumina, Silica, Perfume, Dimethicone/Vinyl Dimethicone, Crosspolymer.
PRICE of white tone face powder in India
Rs. 75/- for 50 gms & Rs. 55/- for 30 gms
SHELF LIFE of white tone face powder is 2 years


HOW TO APPLY white tone face powder?
Wash the face from face wash. Pat dry the face with soft face towel. Apply thoroughly your daily face cream till it get blends with your face skin.
Then, take decent amount of WHITE TONE Face Powder WITH SOFT SHADE FORMULA over your palm.
Take the powder on your finger tips and apply gently over your face till it blends with your skin.
It will gives you the smoother fairer look. And also helps to get rid of excess oil secretion especially T-Zone, like mine, for next 1-2 hrs. It helps your face to look fresher.
USAGE INSTRUCTION: Apply as and when require
MY EXPERIENCE of white tone face powder
As I have to go to office, I had made it a part of my makeup essentials. 🙂
I usually apply it after my face cream (Lotus Herbal Skin Whitening & Brightening Gel Creme), it blends with my skin easily, giving my face a fairer and refreshing look.  Check my Review of Lotus Herbal Skin Whitening Cream.
It also helps me at the T- Zone of my face to absorb excess oil secretion. Although, it would not suits with people with dry skin.
Start with the little white tone face powder, and increase the amount as per the requirement of your face. Putting excessive will leave white patches and anyone can easily find you using the power on your face.
Also, don't apply it instantly over the wet face else powder will get stick and not get spread evenly. Therefore, dry your face completely before applying the white tone face powder.
What I LIKE About white tone face powder
Attractive eye catchy cute packaging with light baby pink colour.
A white coloured face powder with soft, smooth texture.
Minimizes minor blemishes.
A mild floral fragrance (long lasting scent).
Powder blends with the skin easily.
It gives a fairer and refreshing look to your face.
Suits to oily skin well, as it help to get rid of excess oil secretion especially the T- Zone for next 1-2 hrs.
Can be used directly over face or after applying makeup daily for a fresh look.
Do not leaves whitish casts over face.
Comes in good quantity as it lasts long even on applying it daily.
Easily available.
Inexpensive.
What I DISLIKE About white tone face powder
Bulky in size, not travel friendly.
The powder comes without an applicator that means it has to apply with hand only.
Flip top cover doesn't close completely.
Do not suits to dark skin toned and dry skinned people.
Unable to control oil for more than 1-2 hrs.
Final Comments
I am using it from last few months, and I'm satisfied with the product.
I will definitely recommend others having oily skin texture. But will not suggest to people with dark skin tone.
A single jar would last for many months. The product is value for money for sure and is worth purchasing. 🙂
So try this product and do share your feedback / review of white tone face powder in comments below.